Spiral zipper No.0 endless long chain
Stock colours
Bobbins á 300/400 m
White
Silk white
Black
Ecrú
Ivory
Hank á 200 m or roll á 50 m: colourless transparent
Coil/Spiral zipper – tape and coil made of polyester
Tape sewn on spiral
Chain width ca. 4 mm
Single tape width ca. 12 mm
Synonyms: coil zipper long chain by-the-yard, zip fastener chain by the meter
Slider No.0
Material: Zamac
Top stops for spiral zippers
with ca. 4 mm chain width
Especially for spiral zippers only
Universally usable top stops RT0
U-stops/C-stops
Spiral zipper No.5 endless long chain
Stock colours
Bobbins á 250 m
White
Ivory
Black
Cinnamon brown
Coil/Spiral zipper – tape and coil made of polyester
Tape sewn on spiral
Chain width ca. 5 mm
Single tape width ca. 14 mm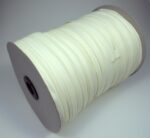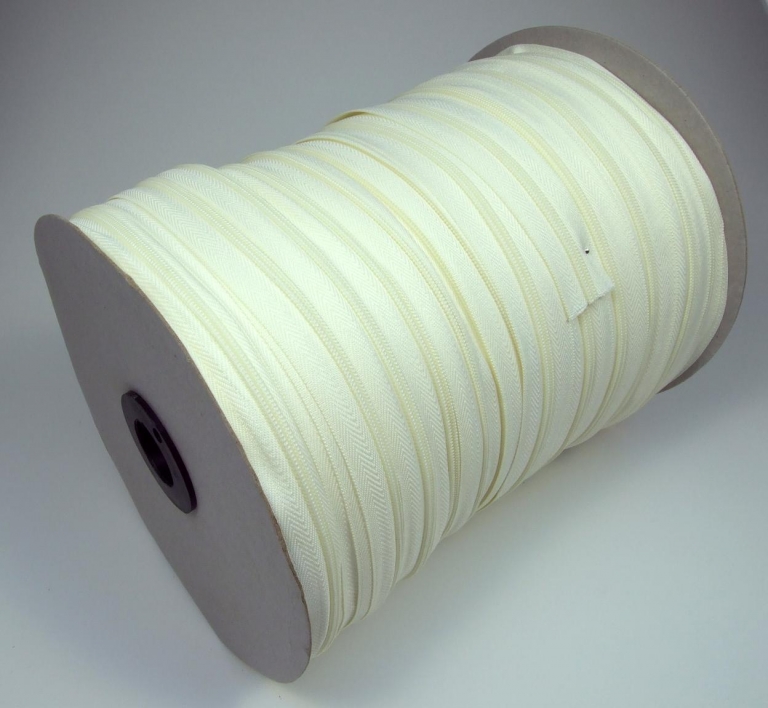 Slider No.5
Material: Zamac
Spiral zipper No.10 endless long chain
Stock colours
Bobbins á 200 m
White
Silk white
Black
Dark brown
Medium brown
Coil/Spiral zipper – tape and coil made of polyester
Tape sewn on spiral
Chain width ca. 6 mm
Chain thickness ca. 2.5 mm
Single tape width ca. 16 mm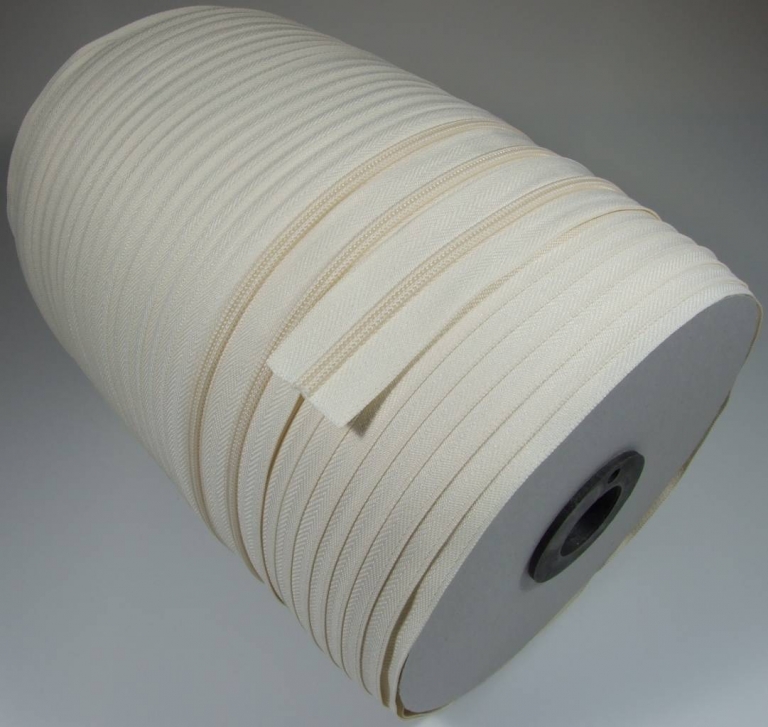 Slider No.10
Material: Zamac
Top stops for spiral zippers
with ca. 6 mm chain width
Especially for spiral zippers only
Universally usable top stops RT10
U-stops/C-stops
Synonyms: zipper upper parts, stopper parts, zip metal brackets, zip clip, zipper clamps
Bottom stops for spiral zippers
with ca. 6 mm chain width
Universally usable bottom stops RT10
Synonyms: U-Stops, G-Stops, C-Stops, lower boundary part, final connection, end clamp, end stop, bottom staples
Spiral zipper endless long chain No.10, with 28 mm tape width
Bobbins á 200 m Stock colour: Black
Coil/Spiral zipper – tape and coil made of polyester
Tape sewn on spiral
Chain width ca. 6 mm
Single tape width ca. 28 mm
Total width of the zipper ca. 56 mm
Synonyms: coil zipper long chain by-the-yard, zip fastener by the meter, extra wide tape for college wallets, writing folders, conference folders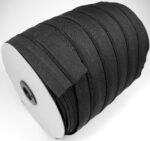 Spiral zipper No.20 endless long chain
Bobbins of 100 m & 200 m Stock colour: Black
Coil/Spiral zipper – tape and coil made of polyester
Tape sewn on spiral
Chain width ca. 7.2 mm
Single tape width ca. 18 mm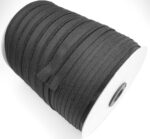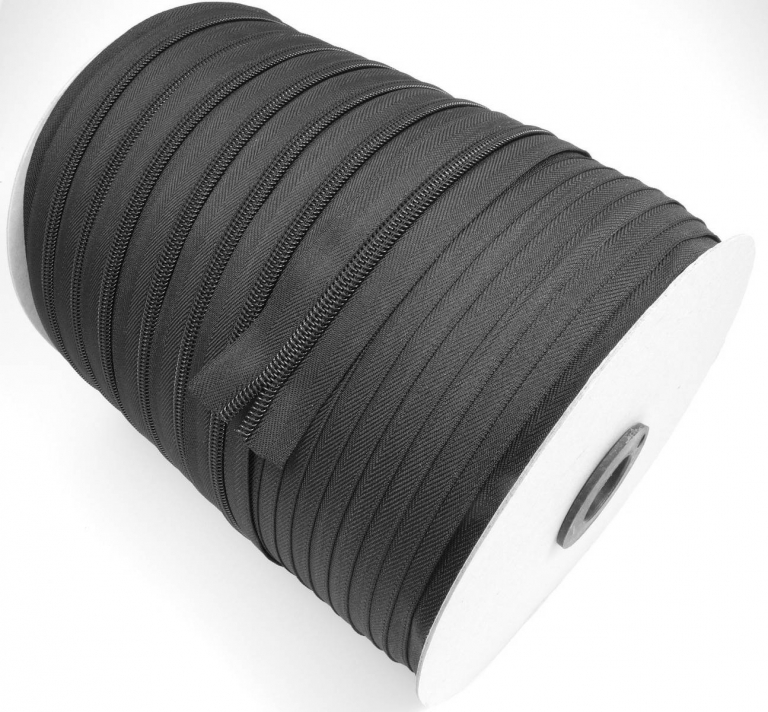 Slider No.20
Material: Zamac
Top stops for spiral zippers
with ca. 8 mm chain width
Universally usable top stops RT20
U-stops/C-stops
Bottom stops for spiral zippers
with ca. 8 mm chain width
Universally usable bottom stops RT20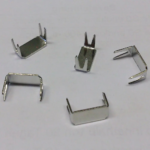 Stainless steel, u-shape, 4 prongs, suitable for crimping with the
multi-purpose pliers
Spiral zipper No.25 endless long chain
Bobbins á 100 m Stock colour: Black
Coil/Spiral zipper – tape and coil made of polyester
Tape sewn on spiral
Chain width ca. 10.5 mm
Single tape width ca. 20 mm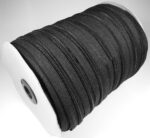 Slider No.25
Top stops for spiral zippers
with ca. 10 mm chain width
Especially for spiral zippers only
Universally usable top stops RT25
U-stops/C-stops
Bottom stops RT25 for zippers with ca.
10 mm chain width
Zipper jig
With this tool, you can easily and quickly pull sliders on endless zipper long chain by-the-yard. The zipper jig holds zipper sliders and unlocks automatic sliders which are particularly difficult to install. You can save enormous time and increase your productivity.
Safety benefits that minimize the risk of injury:
Saxotex' zipper forks have rounded edges on the insertion slot. In 2018, we continued to improve our zipper jigs so they no longer tower over the table edge.
Massive silver steel (115CrV3) tool body milled
Screw clamp for tabletops up to 45 mm thick
Size 1 for sliders up to 7 mm chain width
Size 2 for sliders over 7 mm chain width
Zipper jig Duo for all zipper slider sizes
Synonyms: Fork Clamp Tool, Zipper aid, zipper rearing tool, zipper holder