Invisible concealed zippers we stock in two, finely knitted tape qualities. On
special sale
we also have the invisible concealed zip fastener with the somewhat coarser, normal, woven tape.
Spiral zipper S0 invisible concealed with drop puller,
for women's apparel
Stocked Lengths:
18 cm
20 cm
22 cm
25 cm
30 cm
35 cm
40 cm
50 cm
60 cm
PU: 100 pieces
Colours in stock:
Black
White
Raw white
Other colours with 3 weeks delivery time
Coil/Spiral zipper – tape and coil made of polyester
Fine, knitted lace tape, which hardly appears in fine garments. Therefore this zipper is ideal for sewing in clothing in such a way that the garment fabric completely conceals the zipper. As a result, only a seam-like line and the drop puller are visible on the garment.
Chain width ca. 4 mm
Single tape width ca. 12 mm
Automatic slider with drop puller, varnished
Synonyms: Seam concealed zipper, Invisible Zip Fastener, Concealed Coil
Spiral zipper S0 invisible concealed, transparent with drop puller

Stocked lengths & colours
40 cm
Skin colour
60 cm
White
Skin colour
Also available in black
For particularly fine or translucent clothing fabrics, we offer invisible concealed zippers with a so-called "transparent" tape. This ultra lightweight zipper tape is so finely knitted that it is almost invisible on the skin or in the surrounding fabric.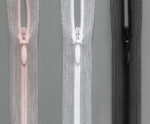 Anyone who processes gossamer delicate fabrics from net, mesh, tulle, voile, fine silk or lace in wedding or bridal dresses, dance competition dresses, ballroom gowns or lingerie needs matching, delicate zippers. We supply such fine, concealed sewn-in spiral zippers with almost transparent tape in black, white and skin-coloured.