29th April 2020: Due to the high demand for the production of mouth and nose protection masks we have additional white rubber cord ⌀ 3 mm immediately available in stock.
Below you will find our assortment in economically normal days.
We keep various elastic textile tapes in stock for immediate delivery. Other variants we procure within a few days.
Knitted elastic band
Knitted elastic textile tape made of 57% polyester & 43% natural rubber
135% elongation
Knit becomes narrower during stretching.
2 qualities available:

Without finishing:

Wavy after hot washing
8-10% wash shrinkage

With finishing:

Remains smooth and stable in shape even after several hot washes
1-4% wash shrinkage

Stocked colours: black, raw white
Stocked widths:

5, 7, 10, 15 mm á 100 m spool
8 mm á 250 m spool
20, 25, 30, 35, 40, 50 mm á 50 m roll

Further widths available at short notice

Cleaning instructions:

Washing

Bleaching

Ironing

No chemically cleaning

Dryer

Basically the knitted elastic textile band is also boil-proof and can be washed at 90°C. However, the supplier of the rubber does not guarantee this. Therefore, each processor must test for himself whether the knitted elastic band still meets his requirements after boiling washes.
Synonyms: Elastic ribbon, rubber tape, Elastic bungee cords, Flat elastic cords on reels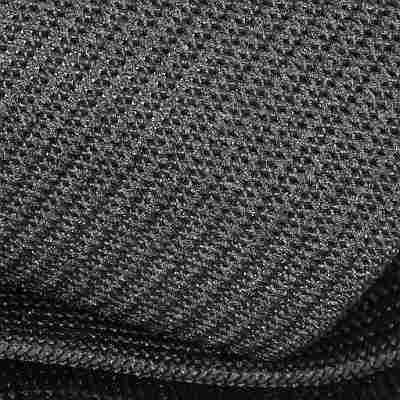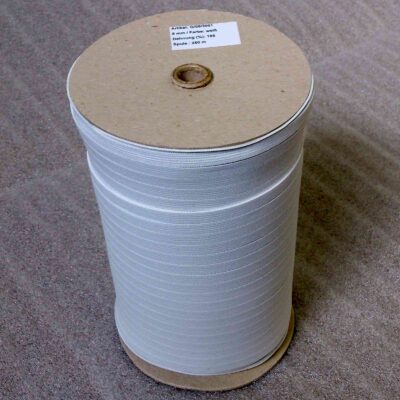 Woven elastic band
100% elongation
Elastic textile band made of polyester & natural rubber
Woven elastic tape with weft and warp thread retains its width during stretching
Finished: Remains smooth and stable in shape even after several washes
Stocked colours: black, raw white
Stocked widths: 15, 20, 25, 30, 50 mm á 50 m roll
Elastic at other widths up to 150 mm (6 inch) and elongations up to 170%, and with a flame-retardant finish for the burn resistance according to DIN 75 200 and FMVSS 302 equipped, are available at short notice.
Synonyms: Woven elastic webbing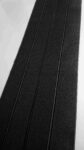 Elastic band with buttonholes
Elastic braid
The elastic rubber threads are woven into the textile structure. This protects the natural rubber of the elastic braid better from environmental influences than other elastic tapes. The braiding process also enables high elasticity.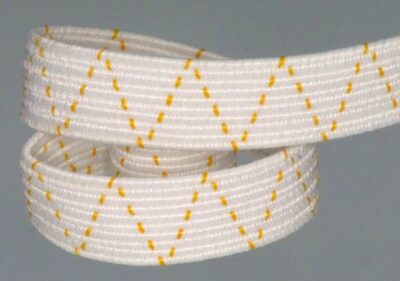 Elastic textile tape without finishing, with orange marker thread
7 mm width, raw white, 300 m bobbin
180% elongation
Without picture:
Elastic braid whitout finishing
74% Polyester, 26% Natural rubber
10 mm wide, raw white, 200 m spool
135% elongation