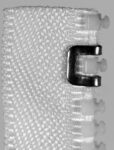 The stirrup-shaped top stops can also be attached on narrower Delrin zip fasteners. But in this case, however, the distance between the teeth is too narrow for these stoppers' metal stirrups. Therefore, at least two injection-molded teeth must be removed. This requires more effort similar to fixing the cheaper U-shaped or Y-shaped top stops.
These top stops can also be used on spiral zip fasteners with chain width of up to 6 mm. If you push a bow-shaped top stop over the spiral and firmly press on the carrier tape, it sits very firmly. However, the top stops always remain visible, since if you completely close the zip fastener they do not dip into the slider because of their size. So, using these stoppers on spiral zip fasteners is primarily a question of visual aesthetics. We recommend our
special aluminum top stops
for spiral zip fasteners.
↥ Back