We have a lot of 2-way brass zippers, 6 mm chain width, antique bronzed surface with defective separating elements (pin connectors). If you cut off both pin connectors, that are the separating elements, you can use the zipper for further purposes. Apart from the separating elements, the zipper chain and sliders work perfectly and are suitable for bags, for example. At each zipper are two automatic sliders, one with mandolin pull tab and one with oval pull tab. The zippers are immediately available in the following tape colours and lengths from 50 to 100 cm:
Special sale

metal zip fasteners M10 antique brass with defective separating elements
Stocked

colours

Length
50 cm
55 cm
60 cm
65 cm
70 cm
75 cm
80 cm
85 cm
90 cm
95 cm
100 cm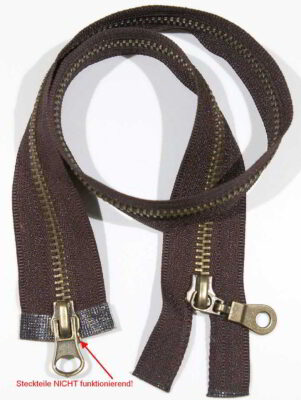 Tape made of polyester
Teeth, sliders, top stops and plug pin parts with antique bronzed surface
Chain width ca. 6 mm
Single tape width ca. 16 mm
Automatic sliders, top with mandolin pull tab, bottom with oval pull tab
These zippers are not suitable for jackets as the main zippers, because the lower slider is not well formed inside. Therefore, the two plug-in pin connectors cannot be inserted into the lower slider. Without the two separating elements, however, the zippers work without any problems.
Price: € 1/m plus 19% VAT & shipping costs